American Dream -  by Larry Keel  
I don't wanna grow up to be another angry old white guy!  
Self-important, and all wrapped up in his white lie.  
It's best when I spread happiness around,  
Not bringing everyone around me down.  
I don't wanna grow up in a world that's filled with hate.  
I'd rather look at our differences and relate.  
Help everyone achieve most anything,  
So they don't sleep through their American dream.  
I like to look around and see the face of a smiling child.  
In an out-of-control world that always seems to be running wild.  
Protect and nourish love for family  
Cause that's what means the most to me.  
I just wanna be happy and spread it around like wildfire!  
To be better than the rest, I have no desire.  
To help, and not harm my fellow man,  
To listen in love and do the best I can.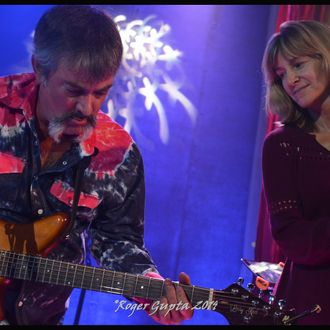 Tips gratefully accepted
Thank you for your donation!
Enter the amount you wish to donate
About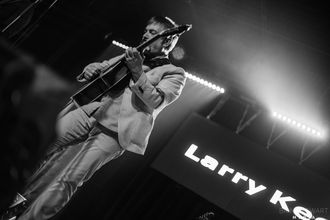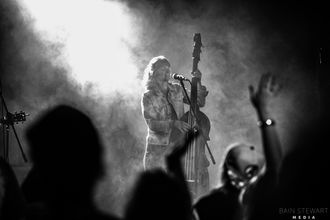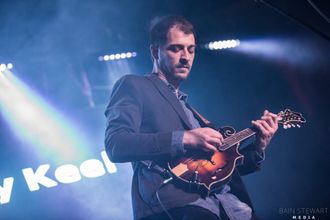 Larry Keel is an award-winning innovative flat picking guitarist and singer/songwriter hailing from Appalachia.  Raised in a musical family steeped in the mountain culture of the region, Keel began from an early age to forge a distinctive sound, taking traditional music and infusing it with modern light. With the acoustic guitar Keel has brought the flat picking form to its highest level of sophistication and sonic power with his muscular, yet refined style of playing. As a composer and singer, Keel integrates raw honesty and charming grit to form a unique brand of music he calls 'experimental folk', songwriting that is filled with reality, imagination, imagery and mood. He has appeared on over 20 albums, 12 of which he produced, and has written songs that have been recorded and performed by distinguished artists including Grammy-award winners Del McCoury and The Infamous Stringdusters.  Keel has collaborated and continues to merge creative forces with some of the greatest artists in modern roots music such as Tyler Childers, Billy Strings, Al DiMeola, Tony Rice, Keller Williams and Sam Bush, to name a few.   
His latest creation is a solo album titled American Dream, whose every component—from the writing and arranging, to the instrumental and vocal performances, to the recording and production—spring straight from the mind, soul, and hands of the Virginia-born artist. Each of the album's 10 tracks were composed by Keel and serve as an autobiographical overview of his life and career, as well as the influences and episodes that have shaped his personal perspective along the way.
Listen to Larry Keel's latest release (Nov 6th) American Dream:  https://soundcloud.com/larry-keel/sets/american-dream